FROM THE BOOK OF HEAVEN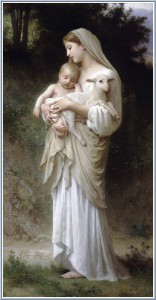 12/28/36 – Vol. 34
(Mary) The Celestial Heiress; how She calls Her children to Inherit Her Goods.  How She arrives at Gifting souls with Her Maternal Love in order to form other mamas for Jesus.
I continue the same theme.  I was thinking about what was written above, and I said to myself:  "Is it possible, all this chain of Excessive Love that it seems that it never ends?  I know that Our Lord can do everything, but to arrive at so much, even to making descend from the height of His Sanctity this Celestial Mother into the depth of our souls and raising us as one of Her most tender children, not only this, but to Generate Her Son Jesus and to raise us together, gives of the incredible."
And although I felt my heart burst for love and for joy, more so, because I felt Her in me, shadowed in Her Light, that with an Indescribable Love She raised me as Her daughter, and together with me She raised Her dear Son.  Yet I felt like not saying and not writing it, also in order to not arouse difficulties and doubts.
"But my dear Jesus, taking an imposing aspect, as to not be able to resist Him, told me:  "My daughter (Luisa), I (Jesus) want that what I have told you (Luisa) be written.  In what I have told you there are Seas of Love that will Invest creatures, and I do not want it to be suffocated.  Therefore if You do not write, I leave.  Have you forgotten that I must Conquer man by way of Love, but Love that will make it difficult for them to resist Us?"
I immediately said "Fiat."
And my beloved Jesus, taking His usual sweet and Lovable aspect, with a Love that I felt my heart burst, added:  "My blessed daughter (Luisa), there is nothing to doubt.   My Being is all Love, and when it seems that I have given in such Excesses of Love as to not be able to show other Excesses of Love anymore, as if I begin from the start I invent other New Excesses of Love, other discoveries, as to surpass, O! how much more the other Excesses of Love.  Now listen, My daughter (Luisa), and you will convince yourself of what I (Jesus) have told you.  Adam, by sinning, made all the evils inherited by the human generations.  And having gone out of the Beautiful Inheritance of the Divine Will in which he Lived in Opulence, Luxury and Sumptuousness of the Goods of his Creator, he lost the Right of Our Goods, and all his descendents with him.  But these Goods were not destroyed, they exist and they will exist.  And when a Good is not destroyed, there is always the certainty that the ones who will have the good of possessing them will come.
"Now, the Great Queen (Mary) began Her Life in the Inheritance of this Divine Will, or better still, with such abundance that She felt drowned in the Goods of Her Creator, but so much so that She could render all the other creatures Happy and Rich.  Now, in this Inheritance of the Fiat, She (Mary) inherited the fecundity, the human and Divine Maternity; She inherited the Word of the Celestial Father, She inherited all the human generation—and these inherited all the Goods of this Celestial Mother (Mary).   Therefore, as Her heirs and as Mother, She has the Right of Generating Her children in Her Maternal Heart.
"But it was not enough for Our and Her Love.  She (Mary) wanted to Generate in every creature.  And since She (Mary) was Heiress of the Divine Word, She held the Power of making Him be Generated in each of them.  How?  If they can inherit evils, passions, weaknesses, why can they not inherit the Goods?  This is why the Celestial Heiress (Mary) wants to make known the Inheritance that She wants to give to Her children.  She wants to give Her Maternity to creatures so that while She Generates Him, they act as mamas to Him and they Love Him as She Loved Him.  She wants to form so many mamas for Her Jesus in order to place Him in safety, and so that no one would offend Him anymore, because the love of mother is very different from other loves, it is a love that always burns, and a love that gives her life for her dear child.
"See, She (Mary) wants to gift creatures with Her Maternal Love, and make them heirs of Her own Son.  O! how She will feel honored in seeing that creatures Love Her Jesus with Her Love of Mother.  You must know that so much is Her Love toward Me and toward creatures, that She (Mary) feels drowned.  And not being able to contain it anymore, She (Mary) has prayed Me that I would Manifest to you (Luisa) what I have told you—Her Great Inheritance, that She (Mary) waits for Her heirs, and what She can do for them, telling Me:  'My Son, do not wait anymore, hurry, Manifest My Great Inheritance and what I can do for them.  I feel Myself more Honored, more Glorified, when You tell what Your Mama can do, than if I Myself were to say it.'  However, all this will have Its Full Effect, Its Palpitating Life, for this Sovereign Lady (Mary) when My Will will be known and creatures, in the Inheritance of their Mother, will take the Possession."
So after this, my sweet Jesus gave me a kiss, telling me:  "In the Kiss is communicated the breath and therefore I (Jesus) have wanted to Kiss you (Luisa) in order to communicate with My Omnipotent Breath the certainty of the Goods and the Great Prodigy that My Mother (Mary) will do for the human generations.  My Kiss is the Confirmation of what I want to do."
I remained surprised, and He added:  And you (Luisa) give Me your kiss in order to receive the deposit of all these Goods, and to reconfirm your will in Mine.  If there is not one who gives and one who receives, a Good can be neither formed, nor possessed."