Follow Jesus
Vatican City, 8 September 2013 (VIS) –Pope Francis: Jesus states the condition for his disciples: to put nothing before their love for Him, carrying their cross, and following him.
The Holy Father explained that many people approached Jesus, especially in the wake of some prodigious dream, that indicated Him as the Messiah, the King of Israel. But Jesus knows that in Jerusalem the cross awaits Him and does not wish to create illusions; he knows that the path will lead him to sacrifice Himself for the redemption of our sins. "Following Jesus does not mean taking part in a triumphal parade!" the Pope said. "It means sharing in His merciful love, becoming part of His great mission of mercy towards each and every man. … And this universal forgiveness, this mercy, comes through the cross. Jesus does not want to carry out this mission alone: He wants to involve us too, in the mission that the Father entrusted to Him. …
From the Twenty-Four Hours of the Passion of Our Lord Jesus Christ
 Eighteenth Hour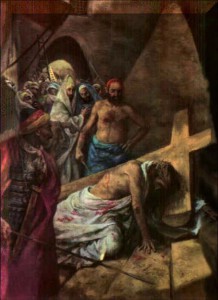 Ah, my Jesus, the Cross is too light for Your Love, but the weight of our sins adds to that of the Cross – enormous and immense, as the expanse of the Heavens. And You, my wearied Good, You feel crushed under the weight of so many sins. Your soul is horrified at their sight, and feels the pain of each sin. Your sanctity remains shaken before so much ugliness, and as the Cross weighs upon your shoulders, You stagger, You pant, and a mortal sweat creeps through your Most Holy Humanity. I beg You, my Love – I don't have the heart to leave You alone – I want to share the weight of the cross with You; and to relieve You from the weight of sins, I cling to your feet. I want to give You, in the name of all creatures, love for those who do not love You, praises for those who despise You, blessings, thanksgivings, obedience on behalf of all. I promise that in any offense You receive, I intend to offer You all of myself in reparation, to do the acts opposite to the offenses the creatures give You, and to console You with my kisses and continuous acts of love. But I see that I am too miserable; I need You to be able to really repair You. Therefore I unite myself to your Most Holy Humanity, and together with You I unite my thoughts to Yours in order to repair for the evil thoughts – mine, and of all; my eyes to Yours, to repair for the evil glances; my mouth to Yours, to repair for the blasphemies and the evil discourses; my heart to Yours, to repair for the evil tendencies, desires and affections. In a word, I want to repair everything that Your Most Holy Humanity repairs, uniting myself to the Immensity of Your Love for all, and to the Immense Good You do to all. But I am not yet content. I want to unite myself to Your Divinity, and I dissolve my nothingness in It, and in this way I give You everything. I give You Your Love to quench Your Bitternesses; I give You Your Heart to relieve You from our coldness, lack of correspondence, ingratitude, and the little love of the creatures.
I give You Your harmonies to cheer your hearing from the deafening blasphemies It receives. I give You your beauty to relieve You from the ugliness of our souls, when we muddy ourselves in sin. I give You Your Purity to relieve You from the lack of righteous intention, and from the mud and rot You see in many souls. I give You Your Immensity to relieve You from the voluntary constraints into which souls put themselves. I give You Your Ardor to burn all sins and all hearts, so that all may love You, and no one may offend You, ever again. In sum, I give You all that You are, to give You infinite satisfaction, Eternal, Immense and Infinite Love.