FEAST OF ST. JOSEPH THE WORKER
MAY 1
The feast of St. Joseph the Worker was established by Pope Pius XII in 1955 in order to Christianize the concept of labor and give to all workmen a model and a protector. By the daily labor in his shop, offered to God with patience and joy, St. Joseph provided for the necessities of his holy spouse and of the Incarnate Son of God, and thus became an example to all laborers. "Workmen and all those laboring in conditions of poverty will have reasons to rejoice rather than grieve, since they have in common with the Holy Family daily preoccupations and cares"(Leo XIII).
---
St. Joseph the Worker
"May Day" has long been dedicated to labor and the working man. It falls on the first day of the month that is dedicated to the Blessed Virgin Mary. Pope Pius XII expressed the hope that this feast would accentuate the dignity of labor and would bring a spiritual dimension to labor unions. It is eminently fitting that St. Joseph, a working man who became the foster-father of Christ and patron of the universal Church, should be honored on this day.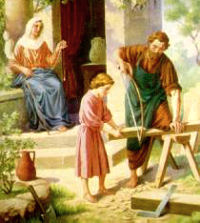 The texts of the Mass and the Liturgy of the Hours provide a catechetical synthesis of the significance of human labor seen in the light of faith. The Opening Prayer states that God, the creator and ruler of the universe, has called men and women in every age to develop and use their talents for the good of others. The Office of Readings, taken from the document of the Second Vatican Council on the Church in the modern world, develops this idea. In every type of labor we are obeying the command of God given in Genesis 2:15 and repeated in the responsory for the Office of Readings. The responsory for the Canticle of Zechariah says that "St. Joseph faithfully practiced the carpenter's trade. He is a shining example for all workers." Then, in the second part of the Opening Prayer, we ask that we may do the work that God has asked of us and come to the rewards he has promised. In the Prayer after Communion we ask: "May our lives manifest your love; may we rejoice for ever in your peace."
The liturgy for this feast vindicates the right to work, and this is a message that needs to be heard and heeded in our modern society. In many of the documents issued by Pope John XXIII, Pope Paul VI, the Second Vatican Council and Pope John Paul II, reference is made to the Christian spirit that should permeate one's work, after the example of St. Joseph. In addition to this, there is a special dignity and value to the work done in caring for the family. The Office of Readings contains an excerpt from the Vatican II document on the modern world: "Where men and women, in the course of gaining a livelihood for themselves and their families, offer appropriate service to society, they can be confident that their personal efforts promote the work of the Creator, confer benefits on their fellowmen, and help to realize God's plan in history" (no. 34).
— Excerpted from Saints of the Roman Calendar by Enzo Lodi
1.  PRAYER TO ST. JOSEPH THE WORKER
O Glorious, St. Joseph, model of all those who are devoted to labor, obtain for me the grace to work conscientiously, putting the call of duty above my natural inclinations, to work with gratitude and joy, in a spirit of penance for the remission of my sins, considering it an honor to employ and develop by means of labor the gifts received from God, to work with order, peace, moderation and patience, without ever shrinking from weariness and difficulties, to work above all with purity of intention and detachment from self, having always death before my eyes and the account that I must render of time lost, of talents wasted, of good omitted, of vain complacency in success, so fatal to the work of God. All for Jesus, all through Mary, after your example, O Patriarch, St. Joseph. Such shall be my watchword in life and in death. Amen.–Pope St. Pius X
May 1 is the feast of St. Joseph the Worker.  Please pray for all you know who are seeking steady work (or those who are in difficult work situations. Below are prayers, including prayers on YouTube and litany to St. Joseph.
St. Joseph is also the patron of:
families, fathers, married people, social justice, realtors, against doubt, against hesitation, people in doubt, Americas, dying people, a happy death, expectant mothers, interior souls, immigrants, laborers, travelers and unborn children.  For a complete list: http://saints.sqpn.com/saint-joseph/ 
(2) Prayer to St. Joseph the Worker
St. Joseph, by the work of your hands and the sweat of your brow, you supported Jesus and Mary, and had the Son of God as your fellow worker. Teach me to work as you did, with patience and perseverance, for God and for those whom God has given me to support. Teach me to see in my fellow workers the Christ who desires to be in them, that I may always be charitable and forbearing towards all. Grant me to look upon work with the eyes of faith, so that I shall recognize in it my share in God's own creative activity and in Christ's work of our redemption, and so take pride in it. When it is pleasant and productive, remind me to give thanks to God for it. And when it is burdensome, teach me to offer it to God, in reparation for my sins and the sins of the world.
O good father Joseph! I beg you, by all your sufferings, sorrows and joys, to obtain for me what I ask.

(insert your specific employment request here.)
Obtain for all those who have asked my prayers, everything that is useful to them in the plan of God. Be near to me in my last moments, that I may eternally sing the praises of Jesus, Mary and Joseph. Amen.
(Our Father, Hail Mary, Glory Be)
(3) Video Prayer to St. Joseph for employment
(4) Prayer to St. Joseph for Employment
Dear Saint Joseph, you were yourself once faced with the responsibility of providing the necessities of life for Jesus and Mary. Look down with fatherly compassion upon me in my anxiety over my present inability to support my family. Please help me to find gainful employment very soon, so that this heavy burden of concern will be lifted from my heart and that I am soon able to provide for those whom God has entrusted to my care. Help us to guard against bitterness and discouragement, so that we may emerge from this trial spiritually enriched and with even greater blessings from God. Amen.
(5) Litany of St. Joseph
Lord, have mercy on us
Christ, have mercy on us

Lord, have mercy on us
Christ, hear us

Christ, graciously hear us
God, the Father of heaven, have mercy on us
God, the Son, Redeemer of the world, have mercy on us
God, the Holy Spirit, have mercy on us
Holy Mary,  pray for us
St. Joseph, pray for us
Blessed offspring of David, pray for us
Light of patriarchs, pray for us
Spouse of the mother of God, pray for us
Chaste custodian of the Blessed Virgin, pray for us
Guardian of the Son of God, pray for us
Defender of Christ, pray for us
Head of the Holy Family, pray for us
O Joseph, most just, pray for us
O Joseph, most chaste, pray for us
O Joseph, most prudent, pray for us
O Joseph, most forceful, pray for us
O Joseph, most obedient, pray for us
O Joseph, most faithful, pray for us
Mirror of patience, pray for us
Lover of poverty, pray for us
Model of laborers, pray for us
Patriarch of the home, pray for us
Protector of virgins, pray for us
Strength of the family, pray for us
Comforter of the afflicted, pray for us
Hope of the sick, pray for us
Patron of the dying, pray for us
Terror of demons, pray for us
Protector of the church, pray for us
Lamb of God, you who take away the sins of the world,
forgive us O Lord
Lamb of God, you who take away the sins of the world, 
hear us O Lord
Lamb of God, you who take away the sins of the world,
have mercy on us.
Let us pray
Lord Jesus, through the merits of the devoted spouse
of your most holy Mother, help us, we beseech thee,
that what of ourselves we cannot obtain,
may be granted through the intercession
of the Most Holy Patriarch, Saint Joseph.
You who reign with God, the Father,
in the unity of the Holy Spirit now and forever.
Amen.
(6) Prayer to St. Joseph
(6)Saint Joseph, you are the faithful protector and intercessor of all who love and venerate you. I have special confidence in you. You are powerful with God and will never abandon your faithful servants. I humbly invoke you and commend myself, with all who are dear to me, to your intercession. By the love you have for Jesus and Mary, do not abandon me during life, and assist me at the hour of my death. Glorious Saint Joseph, be my guide, my father, and my model through life that I may merit to die as you did in the arms of Jesus and Mary.  Guardian of the Word Incarnate, I am confident that your prayers on my behalf will be graciously heard before the throne of God.  Through Christ, our Lord.  AMEN. (MENTION YOUR INTENTIONS)