Saint Raphael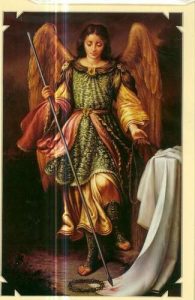 "God has Healed" – or "Medicine of God"
All that we know of Saint Raphael, whose name means "God has healed", comes from the Book of Tobit in which he heals Tobias' blindness. His office, according to popular piety, is that of healing and facilitating acts of mercy. He is affiliated with young people venturing into world, particularly concerning learning and marriage.
The angel in John's Gospel who descended to the pool of Bethesda and imbued it with healing powers so that the first to enter it after it moved would be healed of whatever infirmity they possessed is identified with Raphael (John 5:1-4).
Patron saint: physicians, medical workers, love, lovers, mental illness, nurses, pharmacists, shepherds, against sickness, therapists, travelers, young people; young people leaving home for the first time, the blind, happy meetings, matchmakers, Christian marriage, and Catholic studies, among others.
Almighty and ever-living God, who disposes in marvelous order ministries both angelic and human, graciously grant that our life on earth may be defended by those who watch over us as they minister perpetually to you in heaven. Through our Lord Jesus Christ, your Son, who lives and reigns with you in the unity of the Holy Spirit, one God, for ever and ever. Amen.