ST. PADRE PIO

The bleeding hand of Padre Pio of Pietrelcina was raised thousands of times to bless the faithful at the end of Holy Mass
LUISA PICCARRETA
A collection of memories of the Servant of God
BERNARDINO GIUSEPPE BUCCI, O.F.M.
Blessed Padre Pio, Luisa Piccarreta and Rosaria Bucci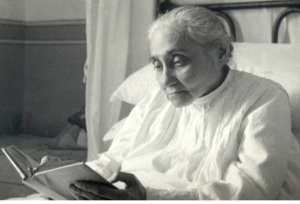 Luisa Piccarreta and Blessed Padre Pio of Pietrelcina knew one another for some time without ever having met, for Luisa was always confined to the bed where she sat, while Padre Pio was enclosed in the friary of the Capuchin Fathers of San Giovanni Rotondo.5
One question naturally arises, how did they come to know one another?
This is difficult to discover, yet one thing is certain, that the two did know and esteem one another.
My aunt recounts how Luisa would speak with respect and veneration of the blessed father, describing him as a "true man of God", who still had great suffering to face for the good of souls.
In about 1930, a well-known figure arrived at Luisa's house, sent personally by Padre Pio. He was Federico Abresch, a convert of Padre Pio. Federico spoke at length with Luisa. What they said we are not given to know; but one thing is certain. Federico Abresch became an apostle of the Divine Will and regularly visited Luisa, with whom he always had long conversations.
When his little son received his first communion from Padre Pio's hands, he was also immediately taken to see Luisa who, according to the story, foretold that he would become a priest.
The small boy of that time is now a priest and works at the Congregation for Bishops in Rome; he is known by the name of Mgr. Pio Abresch.
When Luisa was condemned by the Holy Office and her works put on the Index, Padre Pio sent her this message though Federico Abresch: "Dear Luisa, saints serve for the good of souls, but their suffering knows no bounds". At that time Padre Pio was also in very great difficulties.
Blessed Padre Pio sent many people to Luisa Piccarreta and would say to the people of Corato who went to San Giovanni Rotondo: "What have you come here for? You have Luisa, go to her".
Padre Pio recommended to certain of his faithful (including Federico Abresch) that they open a spirituality center at San Giovanni Rotondo, inspired by the Servant of God Luisa Piccarreta.
Miss Adriana Pallotti (a spiritual daughter of Padre Pio) is currently an heir to Padre Pio's wishes. She has opened a House of the Divine Will at San Giovanni Rotondo, keeping alive the torch lit by Padre Pio with Federico Abresch. Miss Adriana Pallotti says that it was Blessed Padre Pio who encouraged her to spread Luisa Piccarreta's spirituality in San Giovanni Rotondo and to help disseminate the Divine Will throughout the world, as Padre Pio desired.
Aunt Rosaria went regularly to San Giovanni Rotondo, especially after Luisa's death. Padre Pio knew her very well, and when Luisa was still alive he would ask Aunt Rosaria when he saw her: "Rosa', how is Luisa?".
Aunt Rosaria would answer him: "She is well!".
After Luisa's death, Aunt Rosaria increased her visits to San Giovanni Rotondo, in order to receive enlightenment and advice from Padre Pio.
…Luisa said to my aunt: "You will be my witness" and one day Padre Pio told her point-blank in his Benevento dialect: "Rosa', va nanz, va nanz ca Luisa iè gran e u munn sarà chin di Luisa" (Rosaria, go ahead, go ahead for Luisa is great and the world will be full of Luisa). My aunt often recounted this episode, but things were not going well: everything indicated that Luisa would soon be forgotten.
After the venerated Padre Pio's death, my aunt said one day: "Padre Pio prophesied that Luisa would be known throughout the world". And she repeated the phrase Padre Pio had said in his dialect.
I answered that there would be no easy solution to the case of Luisa Piccarreta Indeed nothing further was said of it in Corato either, and Padre Pio's words could have been considered merely a comforting remark. But Aunt Rosaria retorted: "No! During my confession Padre Pio told me that Luisa is not a human factor, she is a work of God and he himself will make her emerge. The world will be astounded at her greatness; not many years will pass before this happens. The new millennium will see Luisa's light".
Excerpts from the Letters of the Servant of God Luisa Piccareta

Letter #74 – To Mrs. Caterina Valentino, from S. Giovanni Rotondo, Foggia:
…I commend myself to your prayers.  Tell Padre Pio to pray very much for us, as the storm shows no sign of ceasing; we are always under lightening and thunders, which seem to want to burn us up.  Fiat!  Let us remain always in the Divine Will.  With heartfelt obsequies I say,
the little daughter of the Divine Will.
Corato, April 27, 1939
Letter #89 – To Frederico Abresch:
Dearest son in the Divine Volition, since you are near holy Padre Pio, talk to him about our things, that he may talk about them with the Lord; and if the Lord wants, let him tell you something.  Entrust me to his prayers, for I need them very much.  Kiss his hands for me.
Most affectionately yours,
the little daughter of the Divine Will.
Corato, August 5, 1940
Letter #132 – To Frederico Abresch:
Most esteemed son in the Divine Volitio,
I answer to your dear letter.  To hear that you speak of the Divine Will and that you want to know more about It is a great joy for me, knowing how content Jesus is to find a soul who wants to live of Divine Will.  This creature is His Triumph and His Victory.  And even if in the past He was wounded by this creature, He looks at these wounds, smiles and says:  "I have conquered her; she is My victory," and He shows her around to all of Heaven to make feast.  And as fulfillment of His Victory, He centralizes all His Goods in her:  the Goods of Creation and of Redemption, and gives her the right over everything.  And the, wanting to know a Good means wanting to possess it; it is like the appetite for food.
I am sorry for Padre Pio, if he makes a dark face.  We do not speak of what the Church has prohibited, but of what the Church Herself does not yet know.  And the day will come when the Church will know and appreciate, with Triumph and Victory.  Nor can there be true Peace or true Triumph if the Divine Will is not known.  Our Lord will make the greatest miracles to make His Will reign upon earth.  Therefore, let us pray that the time will be shortened and that everything will be changed into Will of God.
I commend myself to your prayers.  Kiss the hands of Padre Pio for me.  And leaving you all in the Sea of the Divine Will, that you may all Live from Its Sanctity, Love and Light, to be able to embrace everything and everyone, and to do Good to all, with the Love of Its Fiat, I send my regards to all,
The little daughter of the Divine Will.
Corato, November 27, 1944