October 4th is the
FEAST DAY OF ST. FRANCIS OF ASSISI
St. Francis of Assisi (Italian: San Francesco d'Assisi, born Giovanni di Pietro di Bernardone, but nicknamed Francesco ("the Frenchman") by his father, 1181/1182 – October 3, 1226)[1][3] was an Italian Catholic friar and preacher. He founded the men's Order of Friars Minor, the women's Order of St. Clare, and the Third Order of Saint Francis for men and women not able to live the lives of itinerant preachers followed by the early members of the Order of Friars Minor or the monastic lives of the Poor Clares.[1] Though he was never ordained to the Catholic priesthood, Francis is one of the most venerated religious figures in history.[1]
Francis' father was Pietro di Bernardone, a prosperous silk merchant. Francis lived the high-spirited life typical of a wealthy young man, even fighting as a soldier for Assisi.[4] While going off to war in 1204, Francis had a vision that directed him back to Assisi, where he lost his taste for his worldly life.[4] On a pilgrimage to Rome, he joined the poor in begging at St. Peter's Basilica.[4] The experience moved him to live in poverty.[4] Francis returned home, began preaching on the streets, and soon amassed a following. His Order was authorized by Pope Innocent III in 1210. He then founded the Order of Poor Clares, which became an enclosed religious order for women, as well as the Order of Brothers and Sisters of Penance (commonly called the Third Order).
In 1219, he went to Egypt in an attempt to convert the Sultan to put an end to the conflict of the Crusades.[5] By this point, the Franciscan Order had grown to such an extent that its primitive organizational structure was no longer sufficient. He returned to Italy to organize the Order. Once his community was authorized by the Pope, he withdrew increasingly from external affairs. In 1223, Francis arranged for the first Christmas manger scene.[4] In 1224, he received the stigmata,[4] making him the first recorded person to bear the wounds of Christ's Passion.[6] He died during the evening hours of October 3, 1226, while listening to a reading he had requested of Psalm 140.
On July 16, 1228, he was pronounced a saint by Pope Gregory IX. He is known as the patron saint of animals, the environment, and is one of the two patron saints of Italy (with Catherine of Siena). It is customary for Catholic and Anglican churches to hold ceremonies blessing animals on his feast day of October 4.[7] He is also known for his love of the Eucharist,[8] his sorrow during the Stations of the Cross, and for the creation of the Christmas creche or Nativity Scene.[9]
For much more information on St. Francis of Assisi click here
BOOK OF HEAVEN
Excerpt from Volume 17 – April 15, 1925
Furthermore, of David it was said that he was an image of Me, so much so, that all of his psalms reveal my person; of Saint Francis of Assisi, that he was a faithful copy of Me.  It is said in the Holy Gospel:  'Be perfect as your Father in Heaven is perfect' – no less; it is also added that no one will enter the Kingdom of Heaven if he is not similar to the image of the Son of God; and many other things.  About all these, no one says that they have been exalted too much, and that these are things not conforming to truths spoken by my very mouth.  Only because to you I said that I wanted to compare you to the Virgin – to make you Her faithful copy, I have exalted you too much?  So, comparing those to Me was not exalting them, nor did anyone raise any doubt or difficulty; but then, comparing to the Virgin – that's too much exaltation.  This means that they have not understood well the mission of the knowledge of my Will.  Indeed, I repeat to you that I not only place you near Her as Her little daughter, on Her maternal lap, that She may guide you, instruct you on how you must imitate Her, to become Her faithful copy by always doing the Divine Will; so that, from Her lap, you may pass onto the lap of the Divinity.  In fact, the mission of my Will is eternal, and it is precisely the mission of Our Celestial Father, who wants, commands, expects nothing else but that His Will be known and loved, that It be done on earth as It is in Heaven.  So you, making this eternal mission your own and imitating the Celestial Father, must want nothing else for yourself and for all but that my Will be known, loved and fulfilled.  And besides, when it is the creature who exalts herself, one should think about it; but when she remains at her place and I exalt her, all is permissible to Me – making one reach wherever I want, and the way I want.  Therefore, trust Me and do not be concerned."
POPE FRANCIS TO VISIT ASSISI OCTOBER 4, 2013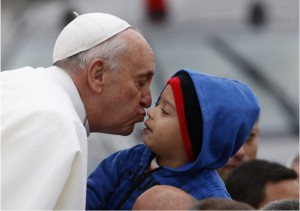 VATICAN CITY, Oct 3 ― Pope Francis will outline how the Catholic Church should follow the humble example of St Francis of Assisi during an historic visit tomorrow to the hometown of the saint whose name he adopted.
Some 100,000 pilgrims and over 1,000 journalists are expected to follow the Argentine pope as he visits the sites associated with the mediaeval saint in the hilltown in Umbria in central Italy.
The son of a wealthy cloth merchant, Francesco Bernardone grew up an arrogant and war-mongering young man before his spiritual enlightenment.
He famously shed his robes in front of his father in a renunciation of earthly riches and donned a sackcloth to live like and for the poor.
"I want to talk about how the Church should take off its clothes, how in some way the Church should repeat the gesture of St Francis," the bishop of Assisi, Domenico Sorrentino, quoted the pope as telling him ahead of the historic visit.
Francis, who has called for a "poor Church for the poor", has said he wants to overhaul the 2,000-year-old institution, making it less "Vatican-centric" and closer to ordinary people.
One of his proposals was to use abandoned monasteries and convents to house refugees and there are rumours that he could announce the abandonment of archaic clerical titles.
Francis has set up a new council of eight cardinals from around the world to advise him in an unprecedented experiment to make Church government more "horizontal" and less hierarchical.
The eight held their first closed-door meetings with the pope this week in which the Vatican said they discussed how to "refresh" the Church and they will accompany him during his visit to Assisi.
The visit is due to begin at 0600 GMT and wrap up at 1700 GMT Friday, with the pope expected to meet groups of poor, sick and handicapped people who are being looked after by Catholic orders or charities.
Logistics and security are expected to be complicated but the pope's bodyguards have said they have already had to adapt because of his constant desire to engage with his followers.
The pope has said the visit is a "pilgrimage" to visit the home of St Francis (1182-1226), whom he has praised for preaching peace, protecting all of God's creation and reaching out to the needy.
St Francis, who is also the patron saint of Italy, was said to have heard God tell him: "Francis, go and repair my house which, as you can see, is falling into ruins" ― a reference to the Church.
That is the same message that cardinals expressed for the new pope at the dramatic conclave in which he was elected in March, following a wave of financial scandals and child abuse cases.
The saint's gesture of renunciation by derobing took place in the bishop's palace of Assisi on April 12, 1207 when his father asked him to return the riches he had given away to the poor.
The pope is expected to visit the room where the act took place and meet with poor people.
There is expectation in Vatican circles of a possible major announcement during the visit.
But leftist daily Il Fatto Quotidiano said the pope need look no further than the town of Assisi itself in his desire to clean up the Church.
The newspaper said that pilgrims and tourists are fleeced by religious institutions in the town and that former convents have been turned into hotels while no refectory offers free meals for the needy.
Francis's visit to Assisi is different from that of his predecessors John Paul II and Benedict XVI because it is focussed on the saint's message of poverty rather than that of inter-religious peace.
The trip will be the pope's third in Italy after he visited the island of Lampedusa in July where he called for more tolerance of immigrants and Cagliari in Sardinia in September when he denounced "an idol called money". ― AFP