"Be Merciful as your Father is Merciful."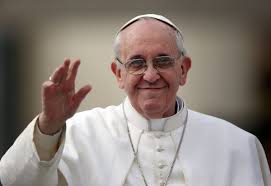 (Vatican Radio) To find mercy we must first forgive. It is through forgiveness that our hearts, and the world, are filled with peace. This was the overarching theme of Pope Francis' homily during Monday morning's Mass at the Casa Santa Marta.
"Be merciful as your Father is merciful." Commenting on these words of Jesus, the Pope added that "it is not easy to understand this attitude of mercy" because we are habitually judgmental. "We are not [the sorts of people] who naturally [allow for understanding and mercy."]
"To be merciful," he said, "two attitudes are needed. The first is knowledge of oneself". This self-knowledge means that we acknowledge "we have done many bad things: we are sinners!" And, when faced with the need for repentance, "the justice of God transforms us in mercy and forgiveness." However, we must have shame for our sins.
"It is true none of us have murdered anyone, but many little things, many daily sins, every day… and when someone thinks: ' But what a small heart: I have done this against the Lord!' And he is ashamed! He is ashamed before God, and this shame is a grace: it is the grace of being sinners. 'I am a sinner, and I am ashamed before You and ask your forgiveness.' It is simple, but very difficult, to say: 'I have sinned.'"
Often, Pope Francis said, we blame others for our sins, like Adam and Eve did. "Maybe," he continued "someone else did help me, facilitated the way to do it, but I did it myself!
If we [think like] this, how much good will occur, because we will be humble!" And "with this attitude of penitence we are more able to be merciful, because we feel within us the mercy of God,". Just like in the Our Father: "Forgive, as we are forgiven." Therefore, "if I do not forgive, I am somewhat out of the game!"
The other attitude we need to have in order to be merciful, the Pope continued, is to have a large heart, because "a small" and "egotistical heart is incapable of mercy."
"Make the heart grow! 'But I myself am a sinner.' 'Who am I to judge?' This statement, 'Who am I to judge this? Who am I to gossip about this?… Who am I, who have done the same or worse?' The heart grows! And the Lord says, 'Judge not, and you will not be judged! Condemn not, and you will not be condemned! Forgive, and you will be forgiven! Give, and you will receive!' This [is] generosity of heart! And what will you receive? A good measure, pressed down and overflowing will be poured into your lap. And the image of the person of the person who goes out to collect the wheat with the apron and makes the apron larger so as to receive more, more wheat. If you have a wide, large heart, you can receive more."
The merciful heart, said Pope Francis, "does not condemn, but forgives, forgets" because God has forgotten my sins; God has forgiven my sins. Enlarge the heart. This is beautiful," the Pope said: "You are merciful."
"Merciful men and women have a wide, wide heart: always forgiving others and thinking about their [own] sins. This is the way of mercy for which we must ask. But if all of is, if all people, individuals, families, neighborhoods, had this attitude, how much peace there would be in the world – how much peace in our hearts! Because mercy brings us peace. Always remember: 'Who am I to judge? Have shame and enlarge your heart. May the Lord give us this grace."
EXCERPT FROM THE TWENTY-FOUR HOURS OF THE PASSION
Twentieth Hour
Crucified Jesus, how can so much love be possible? Ah, after so many pains and insults, your first word is of forgiveness; and You excuse us before the Father for so many sins! Ah, You make this word descend into each heart after sin, and You are the first to offer forgiveness. But how many reject it and do not accept it; your love is then taken by follies, because You anxiously desire to give your forgiveness and the kiss of peace to all!
At this word, hell trembles and recognizes You as God; nature and everyone remain astonished; they recognize your Divinity, your inextinguishable love, and silently wait to see where it reaches. And not only your voice, but also your Blood and your wounds, cry out to every heart after sin: "Come into my arms, for I forgive you, and the seal of forgiveness is the price of my Blood." O my lovable Jesus, repeat this word again to all the sinners which are in the world. Beseech mercy for all; apply the infinite merits of your most precious Blood for all. O good Jesus, continue to placate Divine Justice for all, and concede your grace to those who, finding themselves in the act of having to forgive, do not feel the strength to do it.
My Jesus, adored Crucified, in these three hours of most bitter agony, You want to give fulfillment to everything; and while, silent, You remain on this Cross, I see that in your interior You want to satisfy the Father in everything. You thank Him for all, You satisfy Him for all, You beseech forgiveness for all, and for all You impetrate the grace that they may never again offend You. In order to impetrate this from the Father You go through all of your life, from the first instant of your conception, up to your last breath. My Jesus, endless love, let me go through all your life together with You, with the inconsolable Mama, with Saint John, and with the pious women.