FROM THE TWENTY-FOUR HOURS OF THE PASSION OF OUR LORD JESUS CHRIST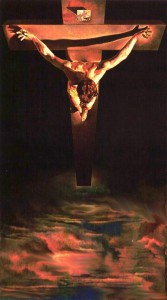 Second Part: Jesus Crucified. With Him we disarm Divine Justice.
My good Jesus, I see that your enemies lift the heavy wood of the Cross and let It drop into the hole they had prepared; and You, my sweet love, remain suspended between Heaven and earth. In this solemn moment, You turn to the Father, and with weak and feeble voice, You say to Him:
"Holy Father, here I am, loaded down with all the sins of the world. There is not one sin which does not pour upon Me; therefore, no longer unload the scourges of your Divine Justice upon man, but upon Me, your Son. O Father, allow Me to bind all souls to this Cross, and to plead forgiveness for them with the voices of my Blood and of my wounds. O Father, do You not see how I have reduced Myself? By this Cross, by virtue of these pains, concede true conversion, peace, forgiveness and sanctity to all. Arrest your fury against poor humanity, against my children. They are blind, and know not what they are doing. Look well at Me, how I have reduced Myself because of them; if You are not moved to compassion for them, may You at least be softened by this Face of mine, dirtied with spit, covered with Blood, bruised and swollen by the so many slaps and blows received. Have pity, my Father! I was the most beautiful of all, and now I am all disfigured, to the point that I no longer recognize Myself. I have become the abject of all; and so, at any cost, I want to save the poor creature!"
Twentieth Hour
From 12 to 1 PM
First Hour of Agony on the Cross.
The first word of Jesus
My Crucified Good, I see You on the Cross, as on the Throne of your triumph, in the act of conquering everything and all hearts, and of drawing them so closely to You, that all may feel your superhuman power. Horrified at such a great crime, nature prostrates itself before You, and waits in silence for a word from You, to pay You honor and let your dominion be recognized.
The sun, crying, withdraws its light, unable to sustain your sight, too sorrowful. Hell is terrified and waits in silence. Everything is silence. Your pierced Mama, your faithful ones, are all mute; and petrified at the sight of your torn and dislocated Humanity – alas, too painful, they are silently waiting for a word from You. Your very Humanity is silent, lying in a sea of pains, among the harrowing spasms of agony; so much so that they fear You are going to die at each breath!
What more? Even the perfidious Jews and the ruthless executioners who, up to a little while ago, were offending You, mocking You, calling You impostor, criminal; even the thieves who were cursing You – everyone is silent, mute. Remorse invades them, and if they try to launch an insult against You, it dies on their lips.
But as I penetrate into your interior, I see that love overflows; it suffocates You and You cannot contain it. And forced by your love that torments You more than the pains themselves, with strong and moving voice, You speak as the God You are; You raise your dying eyes to Heaven, and exclaim: "Father, forgive them, for they know not what they are doing!" And, again, You close Yourself in silence, immersed in unheard-of pains.
Crucified Jesus, how can so much love be possible? Ah, after so many pains and insults, your first word is of forgiveness; and You excuse us before the Father for so many sins! Ah, You make this word descend into each heart after sin, and You are the first to offer forgiveness. But how many reject it and do not accept it; your love is then taken by follies, because You anxiously desire to give your forgiveness and the kiss of peace to all!
At this word, hell trembles and recognizes You as God; nature and everyone remain astonished; they recognize your Divinity, your inextinguishable love, and silently wait to see where it reaches. And not only your voice, but also your Blood and your wounds, cry out to every heart after sin: "Come into my arms, for I forgive you, and the seal of forgiveness is the price of my Blood." O my lovable Jesus, repeat this word again to all the sinners which are in the world. Beseech mercy for all; apply the infinite merits of your most precious Blood for all. O good Jesus, continue to placate Divine Justice for all, and concede your grace to those who, finding themselves in the act of having to forgive, do not feel the strength to do it.
My Jesus, adored Crucified, in these three hours of most bitter agony, You want to give fulfillment to everything; and while, silent, You remain on this Cross, I see that in your interior You want to satisfy the Father in everything. You thank Him for all, You satisfy Him for all, You beseech forgiveness for all, and for all You impetrate the grace that they may never again offend You. In order to impetrate this from the Father You go through all of your life, from the first instant of your conception, up to your last breath. My Jesus, endless love, let me go through all your life together with You, with the inconsolable Mama, with Saint John, and with the pious women.