FORTITVDO –  GIFT OF FORTITUDE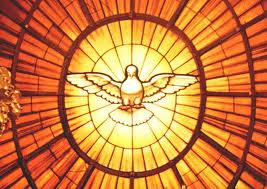 By the gift of Fortitude, the soul is strengthened against natural fear, and supported to the end in the performance of duty. Fortitude imparts to the will an impulse and energy which move it to undertake without hesitancy the most arduous tasks, to face dangers, to trample under foot human respect, and to endure without complaint the slow martyrdom of even lifelong tribulation. "He that shall persevere unto the end, he shall be saved."
            Come, O Blessed Spirit of Fortitude, uphold my soul in times of trouble and adversity, sustain my efforts after holiness, strengthen my weakness, give me courage against all the assaults of my enemies, that I may never be overcome and separated from Thee, my God and greatest Good. Amen.
FROM THE BOOK OF HEAVEN
"My daughter (Luisa), you have disarmed divine Justice many times, contenting yourself with receiving Its blows upon yourself. Now that you see It at the summit of Its fury, do not lose heart, but be courageous; with heart full of holy fortitude, enter into this Justice and disarm It. Do not be afraid of the swords, of the fire, or of anything you may encounter; in order to obtain the intent, if you see yourself wounded, beaten, burned, rejected, do not draw back, but rather, let this be a spur for you to move on. See, so that you may do this, I Myself have come to your help by bringing you a garment; as your soul wears it, you will acquire courage and fortitude so as to fear nothing."
"My virtues and the merits I acquired for man in my Passion, are as many towers of fortitude on which everyone can lean along the journey on the way to Eternity. But man, ungrateful, running away from these towers of fortitude, leans on mud and conducts himself along the way of perdition." Then Jesus disappeared, and I found myself inside myself.
"…Even more, it can be said that patience is custody of purity; not only this, but it is staircase to ascend to the mountain of fortitude, in such a way that if one went up without the staircase of patience, he would immediately fall from the highest point to the lowest. In addition to this, patience is seed of perseverance, and this seed produces branches called firmness.
"…Therefore, remain strong in Faith, for if you are strong in it, in all states and circumstances, Faith will administer Fortitude to you, and will make you be always united with God."
"…My Divine Will will Form the Consecration of the Divine Life, of Fortitude, of Firmness, and of all that I am.
"…confidence in Me dispels fear, and nourishes the soul with pure Love; it dissolves doubts, and gives her Certainty; it takes away weakness, and gives her Fortitude.
"…My Will is Life, and the soul is already disposed to receive Life; It is Holy, and she receives Sanctity; It is Strong, and she receives Fortitude; and so with all the rest.
I (Luisa) continue my flight in the Divine Volition. Upon entering It, one can feel Its Balsamic Air and Its Pacific Waves. All is Peace…. Its Strength is such that the soul feels Invested by such a Fortitude as to be able to do everything, reaching any extent, and even doing what God Himself does. Divine Will, how capable You are of changing the human will! Your Power is such as to Renew the poor creature, making her be Born to New Life.