FEAST DAY OF OUR LADY OF MOUNT CARMEL
JULY 16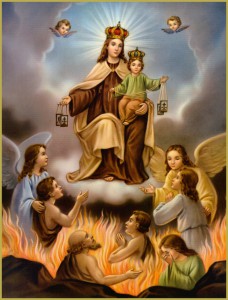 Since the 15th century, popular devotion to Our Lady of Mount Carmel has centered on the Scapular of Our Lady of Mount Carmel also known as the Brown Scapular, a sacramental associated with promises of Mary's special aid for the salvation of the devoted wearer. Traditionally, Mary is said to have given the Scapular to an early Carmelite named Saint Simon Stock. The liturgical feast of Our Lady of Mount Carmel is celebrated on 16 July.[1]
The solemn liturgical feast of Our Lady of Mount Carmel was probably first celebrated in England in the later part of the 14th century. Its object was thanksgiving to Mary, the patroness of the Carmelite Order, for the benefits she had accorded to it through its rocky early existence. The institution of the feast may have come in the wake of the vindication of their title "Brothers of the Blessed Virgin Mary" at Cambridge, England in 1374. The date chosen was 17 July; on the European mainland this date conflicted with the feast of St. Alexis, necessitating a shift to 16 July, which remains the Feast of Our Lady of Mount Carmel throughout the Catholic Church. The Latin poem Flos Carmeli (meaning "Flower of Carmel") first appears as the sequence for this Mass.[2]
The Feast of Our Lady of Mount Carmel is known to many Catholic faithful as the "scapular feast," associated with the Brown Scapular of Our Lady of Mount Carmel, a devotional sacramental signifiying the wearer's consecration to Mary and affiliation with the Carmelite Order. A tradition first attested to in the late 14th century says that Saint Simon Stock, an early prior general of the Carmelite Order,[3] had a vision of the Blessed Virgin Mary in which she gave him the Brown Scapular which formed part of the Carmelite habit, promising that those who died wearing the scapular would be saved.[4]
That there should be a connection in people's minds between the scapular, the widely popular devotion originating with the Carmelites, and this central Carmelite feast day, is surely not unnatural or unreasonable.
Prayer to the Blessed Mother of Mount Carmel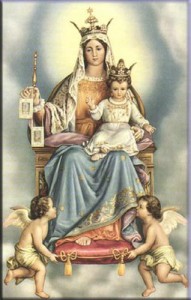 "Oh most beautiful flower of Mt. Carmel, fruitful vine, splendor of Heaven, Blessed Mother of the Son of God, Immaculate Virgin, assist me in my necessity. Oh Star of the Sea, help me and show me you are my Mother. Oh Holy Mary, Mother of God, Queen of Heaven and earth, I humbly beseech you from the bottom of my heart to succor me in this necessity (make request). There are none that can withstand your power. Oh Mary, conceived without sin, pray for us who have recourse to thee. Sweet Mother I place this cause in your hands. Amen.