BLESSED AND MERRY CHRISTMAS!
FROM THE BOOK OF HEAVEN
V4 – 12.25.00 – As I was in my usual state, I felt I was outside of myself; after wandering around, I found myself inside a cave, and I saw the Queen Mama in the act of giving birth to Little Baby Jesus. What a wonderful prodigy! It seemed that both Mother and Son were transmuted into most pure light. But in that light one could see very well the human nature of Jesus containing the Divinity within Itself, and serving as a veil to cover the Divinity; in such a way that, in tearing the veil of human nature, He was God, while covered by that veil, He was Man. Here is the prodigy of prodigies: God and Man, Man and God! Without leaving the Father and the Holy Spirit – because true love never separates – He comes to dwell in our midst, taking on human flesh. Now, it seemed to me that Mother and Son, in that most happy instant, remained as though spiritualized, and without the slightest difficulty Jesus came out of the Maternal womb, while both of them overflowed with excess of Love. In other words, those Most Pure Bodies were transformed into Light, and without the slightest impediment, Light Jesus came out of the Light of the Mother, while both One and the Other remained whole and intact, returning, then, to their natural state.
Who can tell the beauty of the Little Baby who, at the moment of His birth, transfused, also externally, the rays of the Divinity? Who can tell the beauty of the Mother, who remained all absorbed in those Divine rays? And Saint Joseph? It seemed to me that he was not present at the act of the birth, but remained in another corner of the cave, all engrossed in that profound Mystery. And if he did not see with the eyes of the body, he saw very well with the eyes of the soul, because he remained enraptured in sublime ecstasy.
Now, in the act in which the Little Baby came out to the light, I had wanted to fly and take Him in my arms, but the Angels prevented me, saying that the honor of holding Him first belonged to the Mother. Then, the Most Holy Virgin, as though stirred, returned into Herself and from the hands of an Angel received Her Son in Her arms. In Her ardor of love, She squeezed Him so tightly that it seemed that She wanted to draw Him into Her womb again. Then, wanting to let Her ardent love pour out, She placed Him at Her breast to suckle. In the meantime, I was completely annihilated, waiting to be called so as not to be scolded again by the Angels. Then the Queen said to me: "Come, come and take your Beloved, and you too, enjoy Him – pour out your love with Him." As She was saying this, I drew near Mama, and She gave Him to me, into my arms. Who can say my contentment, the kisses, the squeezes, the tendernesses? After I poured myself out a little, I said to Him: 'My beloved, You have suckled the milk of our Mama, share it with me.' And He, all condescending, poured part of that milk from His mouth into mine, and then He told me: "My beloved, I was conceived united to suffering, I was born to suffering, and I died in suffering. And with the three nails with which they crucified Me, I nailed the three powers – intellect, memory and will – of those souls who yearn to love Me, keeping them all drawn to Myself, because sin had rendered them infirm and dispersed from their Creator – without any restraint." As He was saying this, He gazed at the world and began to cry over its miseries. On seeing Him cry, I said: 'Lovable Baby, do not sadden with your tears a night so happy for one who loves you. Instead of pouring ourselves out in crying, let us pour ourselves out in singing'; and as I said this, I began to sing. Jesus was amused at hearing me sing, and He stopped crying; and completing my verse, He sang His own, with a voice so powerful and harmonious that all other voices disappeared at the sound of His most sweet voice. After this, I prayed to Baby Jesus for my confessor, for those who belong to me, and lastly, for everyone, and He seemed all condescending. At that moment He disappeared from me, and I returned into myself.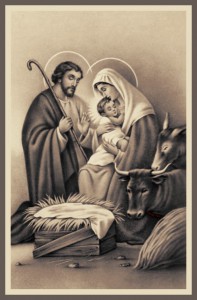 V25 – 12.25.28 – I was thinking about the birth of Baby Jesus, and I prayed Him to come to be born in my poor soul. And in order to sing His praises and form a cortege for Him in the act of His birth, I fused myself in the Holy Divine Volition, and flowing in all created things, I wanted to animate the heavens, the sun, the stars, the sea, the earth and everything with my "I love You."
I wanted to place all created things as though in waiting, in the act of Jesus' birth, so that all would say to Him, "I love You," and "We want the Kingdom of Your Will upon earth."
Now, while I was doing this, it seemed to me that all created things would come to attention in the act of Jesus' birth, and as the dear Baby came out of the womb of His Celestial Mama, the heavens, the sun, and even the tiny little bird, as though all in chorus, were saying, "I love You," and "We want the Kingdom of Your Will upon earth."
My "I love You" in the Divine Will flowed within all things in which the Divine Will had Its life, and therefore all sang praises to the birth of their Creator; and I saw the newborn Baby who, flinging Himself into my arms, all shivering, told me: "What a beautiful feast has the little daughter of My Will prepared for Me; how beautiful is the chorus of all created things saying to Me, 'I love You,' and wanting My Will to reign. One who lives in It can give Me anything, and can use all stratagems in order to render Me happy and make Me smile, even in the midst of tears. Therefore, I was waiting for you, to have a surprise of love of yours by virtue of My Divine Volition.
"In fact, you must know that My Life on earth was nothing but suffering, operating and preparing everything that was to serve the Kingdom of My Divine Will, that must be Kingdom of happiness and of possession; therefore, it is then that My works will have their full fruits and will change for Me and for creatures into sweetnesses, into joys and into possession."
Now, while He was saying this, He disappeared from me; but after a little while He came back, inside a little cradle of gold, clothed with a tiny little garment of light.
And He added: "My daughter, today is My birthday, and I have come to render you happy with My presence. It would be too hard for Me, on this day, not to render one who lives in My Divine Will happy, not to give you My first kiss and tell you, 'I love you' as a requital of yours, and, clasping you tightly to My little Heart, make you feel My heartbeats that unleash fire, and would want to burn everything that does not belong to My Will, while your heartbeat, echoing within Mine, repeats for Me your pleasant refrain: 'May Your Will reign on earth as It does in Heaven.' Repeat it always, if you want to render Me happy and calm My baby crying. Look—your love has prepared for Me the gold cradle, and the acts in My Divine Will have prepared for Me the little garment of light. Aren't you happy?"
FROM THE VIRGIN MARY IN THE KINGDOM OF THE DIVINE WILL
DAY 22
The soul to her Celestial Mama:
Today, holy Mama, I feel an ardor of love, and I feel that I cannot be without coming onto your maternal knees to find the Celestial Little Baby in your arms. His beauty enraptures me, His gazes wound me, His lips, in the act of moaning and bursting into tears, capture my heart to love Him. My dearest Mama, I know that You love me, and therefore I ask You to give me a little place in your arms, so that I may give Him my first kiss, pour my heart into little King Jesus, and entrust to Him my interesting secrets, which so much oppress me. And in order to make Him smile, I will say to Him: "My will is Yours and Yours is mine; therefore, form the Kingdom of your Divine Fiat in me."
Lesson of the Queen of Heaven to her child:
My dearest child, oh, how I long for you to come into my arms, to have the great contentment of being able to say to our little Baby King: "Do not cry, my pretty one. See, here with us is my little child, who wants to recognize You as King and give You dominion within her soul, to let You lay in her the Kingdom of your Will."
Now, child of my Heart, while you are all intent on longing for little Baby Jesus, pay attention and listen to Me. You must know that it was midnight when the little newborn King came out of my maternal womb. But the night turned into day; the One who was the Lord of light put to flight the night of the human will, the night of sin, the night of all evils; and as a sign of what He was doing in the order of souls, by means of His usual omnipotent Fiat the midnight turned into most refulgent daylight. All created things ran to praise their Creator in that little Humanity. The sun ran to give its first kisses of light to little Baby Jesus, and to warm Him with its heat; the ruling wind purified the air of the stable with its waves, and with its sweet moaning said to Him: "I love You"; the heavens were shaken from their very foundations; the earth exulted and trembled down to the abyss; the sea roared with its gigantic waves. In sum, all created things recognized that their Creator was now in their midst, and they all competed in singing His praises. The very Angels, forming light in the air, with melodious voices which all could hear, said: "Glory to God in the highest, and peace on earth to men of good will! The Celestial Baby is now born in the grotto of Bethlehem, wrapped in poor swaddling clothes…" – so much so, that the shepherds who were in vigil, listened to the Angelic voices and ran to visit the little divine King.
My dear child, continue to listen to Me. As I received Him into my arms and gave Him my first kiss, I felt the need of love to give something of my own to my little Son; and offering Him my breast, I gave Him abundant milk – milk formed in my person by the Divine Fiat Itself, in order to nourish little King Jesus. But who can tell you what I felt in doing this, and the seas of grace, of love, of sanctity, that my Son gave to Me in return? Then I wrapped Him in poor but clean little clothes, and I placed Him in the manger. This was His Will, and I could not do without executing it. But before doing this, I shared Him with dear Saint Joseph, placing Him in his arms. Oh, how he rejoiced! He pressed Him to his heart, and the sweet little Baby poured torrents of grace into his soul. Then, together with Saint Joseph, we arranged a little hay in the manger, and detaching Him from my maternal arms, I laid Him in it. Your Mama, enraptured by the beauty of the divine Infant, remained kneeling before Him most of the time. I put all my seas of love into motion, which the Divine Will had formed in Me, to love Him, adore Him, and thank Him.
And what did the little Celestial Baby do in the manger? A continuous act of the Will of Our Celestial Father, which was also His. Moaning and sighing, He wailed, cried and called to everyone, saying in His loving moans: "Come all of you, children of mine; for love of you I am born to sorrow and to tears. Come all of you, to know the excess of my love! Give Me shelter in your hearts." And there was a coming and going of shepherds, who came to visit Him, and to all He gave His sweet gaze and His loving smile, even amid His tears.
Now, my child, a little word to you: You must know that all my joy was to hold my dear Son Jesus on my lap, but the Divine Will made Me understand that I should place Him in the manger, at everyone's disposal, so that whoever wanted, could caress Him, kiss Him, and take Him in their arms, as if He were his own. He was the little King of all; therefore, they had the right to make of Him a sweet pledge of love. And I, in order to fulfill the Supreme Volition, deprived Myself of my innocent joys, beginning, with works and sacrifices, the office of Mother – of giving Jesus to all.
My child, the Divine Will is demanding and wants everything, even the sacrifice of the holiest things; and according to circumstances, even the great sacrifice of depriving oneself of Jesus Himself. However, It does so in order to extend Its kingdom even more, and to multiply the life of Jesus Himself. In fact, when the creature deprives herself of Him out of love for Him, her heroism and sacrifice is so great that she has the virtue of producing a new life of Jesus to be able to form another dwelling for Jesus. Therefore, dear child, be attentive, and never deny anything to the Divine Will, under any pretext.
The soul:
Holy Mama, your beautiful lessons confuse me; but if You want me to put them into practice do not leave me alone, so that, when You see me succumb under the enormous weight of the divine privations, I may cling to your maternal Heart and feel the strength never to deny anything to the Divine Will.
Little Sacrifice:
Today, to honor Me, you will come as many as three times to visit little Baby Jesus, and to kiss His little hands; and you will speak to Him five acts of love, to honor His tears and to calm His crying.
Ejaculatory Prayer:
Holy Mama, pour the tears of Jesus into my heart, that He may dispose in me the triumph of the Will of God.