FROM THE BOOK OF HEAVEN
V30 – 12.6.31 – "…there is a sentence pronounced by Us in the terrestrial Paradise: 'Here one cannot enter—this is a place only for those who do and Live in Our Will.' And therefore the first creatures were put out, placing an Angel as Guard, to prevent their entrance. Our Will is Paradise for creatures—terrestrial on earth, and Celestial in Heaven, and it can be said that an Angel is placed there to Guard It. One who does not want to do It, and does not want to Live in Its arms and Live common Life in Its House, would be an intruder if he did so—but he cannot do it either, because Our Veils become so thick that he would not find the way to get in. And just as an Angel forbids him the entrance, so another Angel Guides and gives the hand to one who wants to Live of Our Will. Therefore, content yourself with dying a thousand times rather than not doing Our Will.
V30 – 5.22.32 – "Now, You Must Know that one (Luisa and the souls Linked to Luisa) who Lives in the Divine Will shall reacquire, among so many prerogatives, the Gift of Infused Science; Gift that will be her guide in order to know Our Divine Being, that will facilitate for her the carrying out of the Kingdom of the Divine Fiat in her soul. It will be as Guide for her in the order of natural things. It will be like the Hand that guides her in everything and will make known the Palpitating Life of the Divine Volition in all created things, and the Good that It continuously brings her. This Gift was given to Adam at the beginning of his Creation. Together with Our Divine Will he possessed the Gift of Infused Science, in a way that he knew Our Divine Truths with clarity. Not only this, but he knew all the Beneficial Virtues that all created things possessed for the Good of the creature, from the greatest thing even to the littlest blade of grass."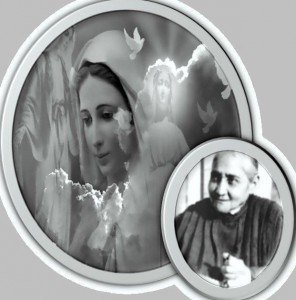 V36 – 5.6.38 – "My blessed daughter, one (Luisa and the souls Linked to Luisa) who Lives in My Will has always been inseparable from her Creator. She was with Us from all Eternity. Our Divine Will brought her to Our Laps to Love, court and enjoy her, and since then, We have felt her love palpitating in Us, calling for the Work of Our Creative Hands, to make of her one of Our best Images. O! how much We delighted in finding in Our Will someone in whom We could express Our Creativity. Now, You Must Know that since these souls that Live, and will Live, in Our Fiat are inseparable from Us, they were coming down with Me when I, the Eternal Word, came down from Heaven to earth in the Excess of My Love. They were guided by the Heavenly Queen; they formed My People, My loyal Army, My Living Royal Palace, in which I was True King of these children of My Divine Will.
V36 – 7.11.38 – "My good daughter, You Must Know that the Power of each act done in My Will is such that it opens a way to Heaven for oneself, and others who follow. Therefore every act is a way that leads to Heaven. All these ways, coming down from Heaven, braid the earth; they spread everywhere and become safe paths and safe guides for anyone who wants to enter, guiding her up to the Womb of her Creator. See then, what an act in My Will can do: it is one more way that opens between Heaven and earth. How Beautiful it is Living in My Will. The act is not only a way but, as the soul is about to do it, the Divine Breath descends into it and, blowing, fills all Creation with Its Omnipotent Breath. Everybody feels the Refreshment, the Love and the Power of the Creative Breath, that has the Power to enclose everyone and everything, embalming with Its Divine and Celestial Air My Operating Will, within Ourselves as much as in the creature. It makes Wonders to the extent that It can say: 'I am a Divine Act, I can do anything.'
V36 – 12.8.38 – "The soul that unites with My Humanity in all her acts and pains, by wanting to find My Will and make It her own, breaks the veil of My Humanity, finding in My Acts the fruit, the Life, the Prodigies that My Humanity did within Me, and receiving all that I did within Me as her own Life. My Humanity will serve to help and guide her, showing her how to Live within It.
Paragraph 91 – III. The Interpretation of the Heritage of Faith
They have received the anointing of the Holy Spirit, who instructs
them 53 and guides them into all truth. 54 ( 737 ) CCC

 Paragraph 1834 – III. The Gifts and Fruits of the Holy Spirit
1834 The human virtues are stable dispositions of the intellect and the will
that govern our acts, order our passions, and guide our conduct in accordance with reason and faith. CCC

Paragraph 1949 – CHAPTER THREE GOD'S SALVATION: LAW AND GRACE
… salvation from God. Divine help comes to him in Christ through the
law that guides him and the grace that sustains him: CCC
 Paragraph 302 – V. God Carries out His Plan: Divine Providence
… God has destined it. We call "divine providence" the dispositions by
which God guides his creation toward this perfection: CCC

Exodus 13:21 – And the Lord went before them to shew the way by day in a pillar of a cloud, and by night in a pillar of fire: that he might be the guide of their journey at both times.
Pslams 26:11 – Set me, O Lord, a law in thy way, and guide me in the right path, because of my enemies.
Wisdom 7:15 – And God hath given to me to speak as I would, and to conceive thoughts worthy of those things that are given me: because he is the guide of wisdom, and the director of the wise: