17/11/2015
The third edition of "The Towers of Corato", was held on Saturday, November 14. It was an evening of awards organized by LO STRADONE newspaper. The purpose of this initiative is the knowledge of those people from Corato who excel in their respective professions giving prestige to our town. Also this year, the majority of these excellences came from the most important cities in the country and abroad.
The Municipal Theatre of Corato that hosted the event was crowded, with the participation also of the Consul General of Venezuela, Amarilys Gutierrez Graffe.
The event, which had as its theme "creativity", opened with the notes of the famous tune of the Marseillaise to commemorate the victims of the terrorist attacks that took place in recent days in Paris. Marina Labartino, vice-director of LO STRADONE, presented the event with Luigi Di Zanni, versatile artist
The eight winners of this edition are:
Domenico Petrone: founder and president of Viasat Group. Tarshito (Sanskrit: thirst for inner knowledge): his first name Nicola Strippoli, architect, artist and designer. His creative genius derived from his meeting with the spiritual dimension of India. Nicolas Vangi: cosmopolitan artist, painter and teacher of art therapy for the Epilepsy Foundation of Florida. The biggest lesson arising from his creative work is that you can turn a disease into a virtue. Epilepsy, that distress him for years, was also one of his first sources of inspiration. Art is catharsis and therapy, positivity and joy of living. Gregorio Sgarra: artist of international renown,  he is famous for his sacred icons and his paintings both classic and modern. Mariateresa Padula: set designer and decorator of environments. Her decors adorned famous movies and plays. Pino Leone: fashion photographer, ready to capture beauty in people and nature. Luigi Quinto: sculptor; he is very known for his original and precious wooden works especially with religious subjects. Some of his most significant works are four wooden sculptures, the largest in the world. Arcangela Gallo: embroideress of the 'tombolo' (lace making). She developed a passion for this ancient art of bobbin lace since she was very young. This ancient tradition is now in danger of extinction, so Arcangela aims to set up an association in Corato that could bring it back to life. Her fine laces adorn the most beautiful trousseaus of young brides.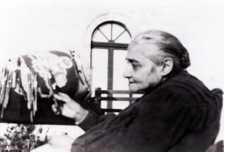 In this respect, her testimony is very significant. She said that before starting work, she prays  another her fellow citizen, who shared with her the same love for this art: the Servant of God Luisa Piccarreta, born in 1865 and died in 1947 in the odor of holiness. Luisa, in fact, supported herself with her work of 'tombolo'. She welcomed the girls who wanted to learn that art, and  through art she taught spirituality. Arcangela asks Luisa to work together, as well as Luisa asked Jesus not to leave her alone. In fact, one day, while the servant of God was working, she physically felt a hand moving inside her hand: it was Jesus who was accomplishing her acts.
On the initiative of AIC  (Association of Entrepreneurs from Corato), a Special Prize was awarded to a young girl graduate for her thesis on the theme "business and industry of Puglia". In this connection, Dr. Marina Mastromauro, administrator of the Pasta Factory Granoro,  granted a scholarship named after her father, Attilio Mastromauro, founder of the Pasta Factory  who died recently, but still alive in the memory of the people of Corato.
"A dream remains so until you decide to make it happen" was adopted as a significant maxim by LO STRADONE throughout this event, as Marina Labartino said, with the intention to encourage young people to pursue their own objectives even if they are difficult and ambitious, following the example of the guest awarded, who have shown that thanks to their persistent efforts and their firm determination it is possible to overcome any obstacle and achieve positive results.
Associazione Luisa Piccarreta
Telefono: 0808982221 | Email: info@luisapiccarretaofficial.org
Associazione Luisa Piccarreta – Piccoli Figli della Divina Volontà
Via Luisa Piccarreta, 25/27 CORATO BA70033 Associazione Luisa Piccarreta – Piccoli Figli della Divina Volontà
Via Luisa Piccarreta, 25/27 CORATO BA70033