Kaia'tanó:ron
Saint Kateri Tekakwitha
Flower of the Algonguins
Lily of the Mohawks
1656-1680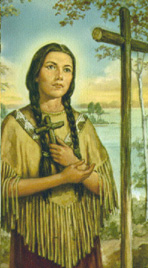 Feast Day
14 July

for more information on St. Kateri go to:  http://www.katerishrine.com/kateri.html
Saint
Kateri Tekakwitha
Gah-deh-lee   Deh-gah-quee-tah
From:  http://www.kateritekakwitha.org/kateri/index1.html
Born in 1656 in Ossernenon NY
Baptized 18 April 1676 St. Peter's Mission in Caughnawaga NY
Received Her First Communion on Christmas Day 1677
St. Francis Mission in La Prairie Canada
Died Wednesday of Holy Week, 17 April 1680 in Kahnawaké Canada
Declared Venerable by Pope Pius XII on 3 January 1943
Declared Blessed by Pope John Paul II on 22 June 1980
Canonized by Pope Benedict XVI on October 21, 2012
The Native Americans need a patron saint.
Saint Kateri Tekakwitha is that person.
She was born of a Catholic Algonquin mother and a Mohawk father.
She was influenced by the fervent Christianity of her mother
and of the Black Robes to live a life of remarkable virtue,
at heart not only a Christian – "a praying Indian" – but a Christian virgin.
She attained the most perfect union with her Creator in prayer.
Her extraordinary sanctity impressed not only her own people
but the French and the Jesuit missionaries.
The oldest portrait of Kateri Tekakwitha is an oil painting on canvas 41″x37″ painted by Father Chauchetière between 1682-1693. It hangs in the sacristy of St. Francis Xavier Church on the Kanawaké Mohawk Reservation on the south bank of the St. Lawrence River, near Montréal, Québec.
Father Pierre Cholenec, a witness at her deathbed, states that at the time of her death Kateri's face "… so disfigured and so swarthy in life, suddenly changed about fifteen minutes after her death, and in an instant became so beautiful and so fair that just as soon as I saw it (I was praying by her side) I let out a yell, I was so astonished, and I sent for the priest who was working at the repository for the Holy Thursday service. At the news of this prodigy, he came running along with some people who were with him. We then had the time to contemplate this marvel right up to the time of her burial. I frankly admit that my first thought at the time was that Catherine could well have entered heaven at that moment and that she had — as a preview — already received in her virginal body a small indication of the glory of which her soul had taken possession in Heaven. Two Frenchmen from La Prairie de la Magdeleine came to the Sault on Thursday to be present at the service. They were passing by Catherine's cabin where, seing a woman lying on her mat and with such a beautiful and radiant face, they said to each other, Look at this young woman sleeping so peacefully and kept going. But, learning the next minute that it was a dead body, and that of Catherine, they returned to the cabin and went down on their knees to recommend themselves to her prayers. After having satisfied their devotion for having seen such a wonderful scene, they wished to show their veneration for the dead girl by constructing then and there a coffin to hold such cherished remains."
[ From a translation by Fr. William Lonc, S.J., of Father Pierre Cholenec, S.J., Catherine Tekakwitha, Summer 2002, p. 50.]
Kateri, orphaned, half blind, scarred by illness and of little worth in her own world, was destined for a greatness of the spirit that spans the centuries and reflects the landscapes – North American wilderness, world of the Iroquois, the Europeans, the mystical realm – in which she existed for so brief a time. These landscapes would collide, confound and torment, eventually robbing her of life, but they would also mold one of the most remarkable, hidden human beings to ever walk the trails of early America. She has been called the Lily of the Mohawks, but perhaps another title should be given to her as well: "Mystic of the Wilderness."
[Kateri Tekakwitha – Mystic of the Wilderness, Margaret R. Bunson, Our Sunday Visitor Publ., 1992, p. 31 ]
Another and more important title should be "Flower of the Algonquins" since it was her Christian Algonquin mother who instilled in her daughter her Christianity, her Catholicism.