January 23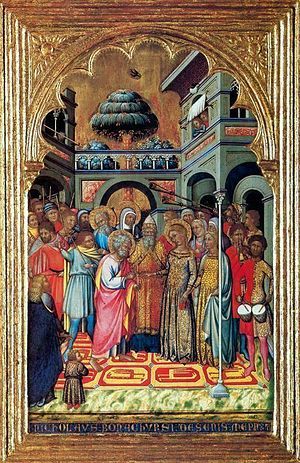 The Espousal of the Blessed Virgin Mary with Saint Joseph


[Historical] 
http://www.rosarychurch.net/latin/jan23.html
The Espousal of the Blessed Virgin Mary with Saint Joseph
Hail, holy Mother! giving birth to thy Child, thou didst bring forth the King, who ruleth the heavens and the earth for ever and ever. [Ps.] My heart hath uttered a good word. I speak my works to the King. Glory be to the Father, and to the Son, and to the Holy Ghost. As it was in the beginning, is now, and ever shall be, world without end. Amen. Hail..
COLLECT
Imbue Thy servants, we beseech Thee, O Lord, with the gift of heavenly grace: that having been exhorted to salvation in the childbearing of the Blessed Virgin; in celebrating the solemnity of her espousal we may be granted an increase of peace.  Through our Lord.
COLLECT OF SAINT JOSEPH
We beseech Thee, O Lord, that we may be helped by the merits of the Spouse of Thy most holy Mother, so that what we cannot obtain of ourselves may be given to us through his intercession.