OUR LADY OF FATIMA  – October 13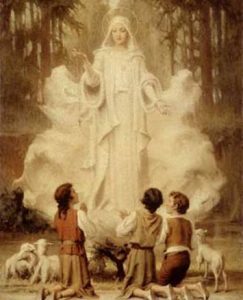 Miracle of the sun; OUR LADY OF AKITA – continuation of Fatima messages and 101 times Weeping; POPE LEO XIII remarkable vision, then he composes the St. Michael prayer and promulgated it worldwide; HEBREW CELEBRATION OF THE FALL HARVEST
The Mercy and Generosity of God allowed that this day be the last of the 101 years of the great tribulation as revealed to Pope Leo XIII in the vision of October 13, 1884. It was Our Lady of Fatima, October 13, 1917, Who Alerted Her children of the beginning of this great tribulation period of 100 years. In Her messages and 101 times weeping, Our Lady of Akita Warned Her children of this ongoing period and imminent Chastisements, with an added year. How are we to know of this added year? Holy Mother Church gave us the Year of Mercy in 2016. Between October 13, 1917 and October 12, 2019 is 101 years. This makes October 13, 2019 the beginning of the NEW DAY.

Genesis 1:5 –

"And he called the light Day, and the darkness Night; and there was evening and morning, one day

."

On October 13, 1956, Our Lady of America Appeared again to Sister Mary Ephrem. Sister writes:




"Today the Holy Virgin Appeared to me as I was working in my room. Our Lady was So Beautiful, and She was again Smiling in Her Heavenly Way. She was dressed in the same manner as when I first saw her (Our Lady of America, The Immaculate Virgin) except that the Immaculate Heart did not appear, and instead of the lily, Our Lady held with both hands, a small replica of the finished Shrine of the Immaculate Conception. She then began to speak. Her Presence overwhelmed me with its Holiness. I was compelled to stop my work. It was impossible to go on. I knelt down then and wrote Our Lady's Words as She Desired: "This is My Shrine, My daughter. I am Very Pleased with it. Tell My children I Thank them. Let them finish it quickly and make it a place of pilgrimage. It will be a place of Wonders. I Promise this. I will Bless all those who, either by their prayers, labor, or material aid, help to erect this Shrine." This is the Shrine of which Our Lady made Her 1956 Request for Her loyal Sons, the Bishops of the United States, to process Her statue in and permanently honor Her there, the Basilica of the National Shrine of the Immaculate Conception in Washington DC.