This also needs to be put in the Article:
When asked in the panic of what to do? We stated that Bryan needed two be anointed by the Holy Church with holy oil of the Sacrament and be touched with the the Relic of The Servant of God Luisa Piccarreta and to continue to pray to her interceeding for healings of Bryan through little Luisa. When I saw Bryan he was a sickly gray and motionless but as soon as the relic of Luisa touched him he turned imedisatedly pink and healthy.
Here's a picture of Padre Bucci with Bryan a few years later.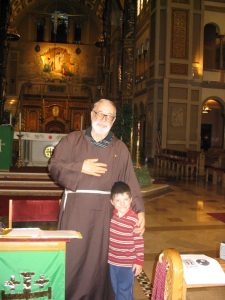 Padre Bucci and Bryan
[embeddoc url="https://bookofheaven.org/wp-content/uploads/2020/04/Bryans-Picture-Story-with-notes-002.pdf" viewer="google"]
[embeddoc url="https://bookofheaven.org/wp-content/uploads/2020/04/Cover-Letter-for-Luisa-editted-5-26-16.pdf" viewer="google"]