The Call of St. Matthew
the Tax Collector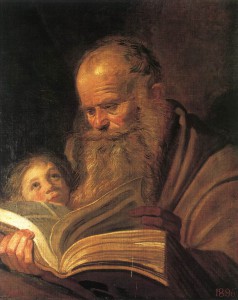 "…we must realize that Matthew not only gave a banquet for the Lord at his earthly residence, but far more pleasing was the banquet set in his own heart which he provided through faith and love…"
This excerpt from a homily on the call of Saint Matthew, the Tax Collector, by Saint Bede the Venerable (Hom. 21: CCL 122, 149-151) is used in the Roman Catholic Office of Readings for the Feast of St. Matthew, apostle and evangelist on September 21 (observed on this day at least from the 8th century).  Matthew, originally called Levi and the son of Alpheus, was, as a publican, excommunicated from the life of the synagogue and shunned in Jewish society.  The fathers of the Church find a figure of the four evangleists in the four living creatures mentioned by Ezechiel and in the New Testament book of Revelation, and Matthew is seen symbolized by the man, since he begins his gospel with the human genealogy of Jesus.  St. Bede the Venerable was one of the earliest and most important Christian writers from Britain.  This homily on the gospel story of St. Matthew the Tax Collector become apostle (Matthew 9:9-13), was first given by St. Bede in the early 8th century.
Jesus saw a man called Matthew sitting at the tax office, and he said to him: Follow me. Jesus saw Matthew, not merely in the usual sense, but more significantly with his merciful understanding of men.

He saw the tax collector and, because he saw him through the eyes of mercy and chose him, he said to him: Follow me. This following meant imitating the pattern of his life – not just walking after him. St. John tells us: Whoever says he abides in Christ ought to walk in the same way in which he walked.
And he rose and followed him. There is no reason for surprise that the tax collector abandoned earthly wealth as soon as the Lord commanded him. Nor should one be amazed that neglecting his wealth, he joined a band of men whose leader had, on Matthew's assessment, no riches at all. Our Lord summoned Matthew by speaking to him in words. By an invisible, interior impulse flooding his mind with the light of grace, he instructed him to walk in his footsteps. In this way Matthew could understand that Christ, who was summoning him away from earthly possessions, had incorruptible treasures of heaven in his gift.
As he sat at table in the house, behold many tax collectors and sinners came and sat down with Jesus and his disciples. This conversion of one tax collector gave many men, those from his own profession and other sinners, an example of repentance and pardon. Notice also the happy and true anticipation of his future status as apostle and teacher of the nations. No sooner was he converted than Matthew drew after him a whole crowd of sinners along the same road to salvation. He took up his appointed duties while still taking his first steps in the faith, and from that hour he fulfilled his obligation and thus grew in merit. To see a deeper understanding of the great celebration Matthew held at his house, we must realise that he not only gave a banquet for the Lord at his earthly residence, but far more pleasing was the banquet set in his own heart which he provided through faith and love. Our Savior attests to this: Behold I stand at the door and knock; if anyone hears my voice and opens the door, I will come in to him and eat with him, and he with me.
On hearing Christ's voice, we open the door to receive him, as it were, when we freely assent to his promptings and when we give ourselves over to doing what must be done. Christ, since he dwells in the hearts of his chosen ones through the grace of his love, enters so that he might eat with us and we with him. He ever refreshes us by the light of his presence insofar as we progress in our devotion to and longing for the things of heaven. He himself is delighted by such a pleasing banquet.
FROM THE BOOK OF HEAVEN
V35 – 12.14.37 – "How beautiful is the beginning of the Day of one who Lives in Our Fiat. It is the enchantment of all the Heaven. If the Celestial Court were subject to envy, It would envy the one who is so fortunate as to possess, within her soul—while still living in time—the beginning of the Eternal Day—the precious Day in which God begins to Live His Life together with the creature.
"Now, as soon as she begins the second act in the Divine Volition, the Sun of My Eternal Will Rises. The Fullness of Its Light is such as to Invest the whole of earth, visiting all hearts and bringing the 'good morning' of Light and New Joys to all the Celestial Court. This Light is crammed with Love, Adoration, Thanksgiving, Gratitude, Glory and Benediction—but whom do these belong to? To the creature who, with her act in My Will, made the Sun Rise that shines over all, so that all may find the one who loved God for them—the one who adored Him, thanked Him, blessed Him and glorified Him. Everyone finds the thing that he was supposed to do for God. She compensates for everyone. One Act in My Will must enclose everything. It has the Power and the Capacity to make up for everyone and to do Good to all; otherwise It could not be called 'Act, done in My Will.' These Acts are full of Unheard-of Prodigies, Worthy of Our Creative Work.
"Now, as she turns to her third act in Our Will, the Full Afternoon of Our Eternal Sun is formed within the creature. Do you know what she gives Us with this Full Afternoon? She prepares a banquet for Us. And do you know what she gives Us for food? The Love We have given to her—Our Divine Qualities. Everything carries the mark of Our Beauty and of Our Chaste and Pure Perfumes. We like it so much that We eat Our fill; and even if something may be missing for Our Status, since the creature is in Our Will, she is the owner of all Our Goods; she takes from Our Treasure whatever is needed, and prepares for Us the most beautiful banquet, Worthy of Our Supreme Majesty. And We invite all the Angels and the Saints to sit at this Celestial banquet, so that they may take and eat with Us, of the Love that We received from the creature who Lives in Our Will. Now, after We've banqueted together, the other acts that she does in Our Will serve—some to form for Us Celestial melodies, some Loving chants, some the most Beautiful scenes; some others repeat Our Works, which are always in action. In sum, she keeps Us always busy. And when she has given course to all her actions in Our Will, We give her rest, resting together with her. After the rest, We begin the Work, starting another Day, and so forth.
"Many times, this loyal daughter of Ours—since true loyalty consists in Living in Our Divine Will—seeing that her brothers and sisters are about to be struck by the deserved chastisements for their sins, doesn't close her Day, but prays and suffers to beseech Graces for their souls as well as for their bodies. The Life of one who Lives in My Divine Will is New Joy and Glory for Heaven, and Help and Graces for the earth."