Fiat!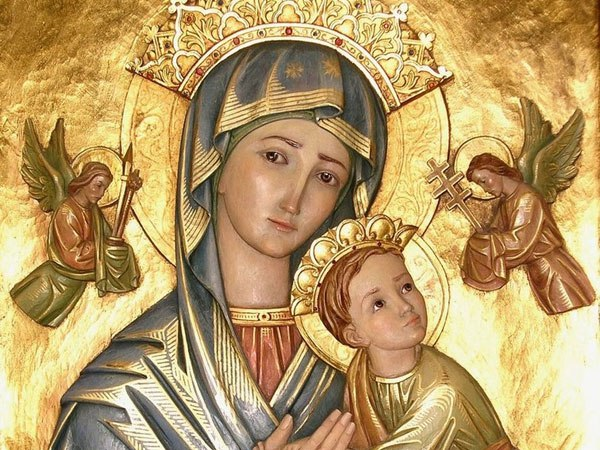 Posted on December 20, 2016
Posted on December 20, 2016 by veilofveronica
Our Lady of Perpetual Help
In the sixth month, the angel Gabriel was sent from God to a city of Galilee named Nazareth to a virgin betrothed to a man named Joseph of the house of David. The Virgin's name was Mary. And he came to her and said, "Hail, full of grace, the Lord is with you!" But she was greatly troubled at the saying and considered in her mind what sort of greeting this might be. And the angel said to her, "Do not be afraid, Mary, for you have found favor with God. And behold, you will conceive in your womb and bear a son and you shall call his name Jesus." And Mary said to the angel, "How can this be since I have no husband?" And the angel said to her, "The Holy Spirit will come upon you and the power of the Most High will overshadow you; therefore, the child to be born will be called holy, the Son of God for with God, nothing is impossible." Mary said, "Behold, I am the handmaid of the Lord; let it be done to me according to your word. Luke 1:26-38
Throughout the past several years I have developed a deep devotion to Mary. She gave the Fiat, the total Yes. She is in communion with the Divine Will. I believe this is what the Holy Trinity wants from all of us. I have stated before that when I invited her into my life, my relationship with Christ became much deeper. Communion with his Will. Thy will be done on earth as it is in heaven. This is not just some empty prayer we pray. Servant of God Luisa Piccarreta had this revealed to her.
I pray this prayer everyday. "Make my will one with yours Lord." Imagine the whole earth praying this, to make your will one with Love Himself! My Spiritual Director once told me the difference between the Saints in heaven and those of us on earth is that when God asks the Saints in heaven to do something they do it immediately, fully and joyfully, but this is not so with us. I thought about how often God has asked me to do something only to have me fight with Him to find a way out of it, or to only do part of what He asked, and feeling so anxious about doing it. But when you are in a relationship with God, you can only fight so much before a whale swallows you and spits you up on a shore.
And so as we enter into the Holy time of the Christmas Season, and the start of a New Year, I have vowed to do my best to make my Fiat immediate, full and joyful. I look to Our Lady of Perpetual Help – to, well, HELP me because I have failed so miserably in the past. She is the example. I know that God is asking for absolute trust and abandonment. And as I look back on the times when I have said yes, I can see how the blessings have abounded. It's as if I can see an intricate tapestry of connections woven with the Divine Hand. He constantly tells me all things are connected and when I look back, I can see that they are. I can also see how, even in suffering, there was beauty, and that He works all things for the good of those who love him. So as I look forward, I cannot help but say, "Mother Mary, grab my hand as I step into the unknown with you, knowing we are guided by the Divine Hand, and I have nothing to fear."
May you all have a very Blessed Christmas and Happy New Year.