THE STORY OF ST. THERESE OF LISIEUX
My Novena Rose Prayer
O Little Therese of the Child Jesus
Please pick for me a rose
from the heavenly garden
and send it to me
as a message of love.
O Little Flower of Jesus,
ask God to grant the favors
I now place with confidence
in you hands
( mention your special prayer request here )
St. Therese, help me to always believe
as you did, in God's great love for me,
so that I may imitate your "Little Way" each day.
Amen.
Novena Prayer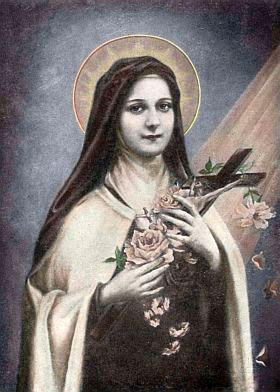 Most gracious Little Rose Queen, remember your promises of never letting any request made to you go unanswered, of sending down a shower of roses, and of coming down to earth to do good. Full of confidence in your power with the Sacred Heart, I implore your intercession in my behalf and beg of you to obtain the request I so ardently desire: (mention it).
Holy "Little Therese," remember your promise "to do good upon earth" and shower down your "roses" on those who invoke you. Obtain for us from God the graces we hope for from His infinite goodness. Amen.