Paragraph 2737 – III. Filial Trust … says, 'He yearns Jealously over the spirit which he has made to dwell in us?'"
28 That our God is "Jealous" for us is the sign of how True His Love is. … CCC

Exodus 34:14 – Adore not any strange god. The Lord his name is Jealous, he is a jealous God.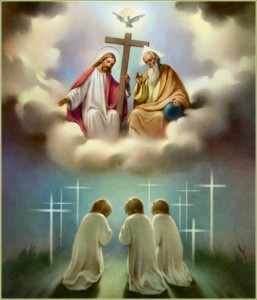 FROM THE BOOK OF HEAVEN
V12 – 6.20.18 – "In the one who does my Will and lives in It, my Love does not find obstruction. I love her and have so much predilection for her that I Myself take care of all that is needed for her: both help and direction, both unforeseen aids and unexpected graces. Even more, I am jealous that others may do something – I Myself want to do everything for her. I reach so much jealousy of love that, if I give to Priests the authority to consecrate Me in the Sacramental Hosts so that I may be given to souls, I reserve to Myself the privilege to consecrate these souls, as they keep repeating their acts in my Will, as they resign themselves, and as they make the human will go out, in order to let the Divine Will enter. What the Priest does over the Host, I do with them – and not only once: every time she repeats her acts in my Will, she calls Me as a powerful magnet, and I consecrate her like a privileged Host, repeating over her the words of the Consecration.
V33 – 11.19.33 – Daughter, so great is the act of disposing oneself to doing My Will, that My Life itself, My Merits, form the paper, the characters, and your Jesus makes the signature in order to make it known and to give her free entrance. One can say that the whole of Heaven runs to the help of one who wants to do My Will. And I feel so much Love, that I take a place in the fortunate creature and I feel Loved by her with My own Will.
"Now, seeing Myself Loved by her with My own Will, My Love becomes jealous and does not want to lose even one breath, one heartbeat, of the Love of this creature. Imagine yourself My Solicitudes, the defenses that I take, the helps that I give, the Loving stratagems that I use. In a word, I want to Re-Make Myself in her, and in order to Re-Make Myself I venture Myself in order to form another Jesus in the creature. Therefore I place all My Divine Art in order to obtain this intent. I do not spare anything—I do everything, I give everything. Where My Will Reigns, I cannot deny anything, because I would deny it to Myself.
V33 – 2.24.35 – "O! if everyone knew the Rights of My Will, Its ardent and constant Love that is so much that while It gives her Life, It puts her forth to the light of day. More than mother, so much is Its Jealousy of Love, that It does not leave her for one instant; It invests her inside and outside, from above and from below, to the right and to the left. And although the creature might not know It, nor love It, with Divine Heroism It continues to Love her and to make Itself Life and Bearer of the acts of the creature. O! My Will, You alone know how to Love with Heroic, Strong, Incredible, and Infinite Love, her whom You Created and who does not even recognize You. Human ingratitude, how great you are."
V33 – 3.10.35 – "What is done in My Volition belongs to Heaven; the earth is not Worthy of possessing it. And O! the Security, the Happiness, that the creature acquires, thinking that her acts are in the Power of the Divine Fiat, and they find themselves in Heaven as her property, not human but Divine, that await her because they want to court her and form her throne of Glory. So much is Its Love, Its Jealousy, the Identification that It feels with these acts done in Its Volition, that It does not even leave them in the creature, but It holds them with Itself as Births of Its Life, and births of the creature, in order to be able to enjoy them and to feel the pleasure of being Loved, and as an advance that It must give her of Glory in the Celestial Fatherland.